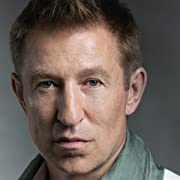 Konstantin Federev, aka Kostya, is a major antagonist in Queen of the South. He is a Russian diplomat in NYC and a boss in the Russian Bratva (Mob). He is Oksana Volkova's cousin and a major player in the drug business in NYC.
He serves as a hidden supporting character in Season 4, and the secondary antagonist of Season 5.
Kostya becomes Teresa Mendoza's customer in season 4. When Oksana turns against Kostya at Teresa's urging (and under the direction of the CIA), he has her breath spray spiked with a deadly KGB-derived poison. Teresa in turn kills him at a meet-up with the same poison, by surreptitiously coating his tequila glass beforehand.
Pasha Lychnikoff is featured as Kostya in QOTS.