Welcome to the
Queen of the South Wiki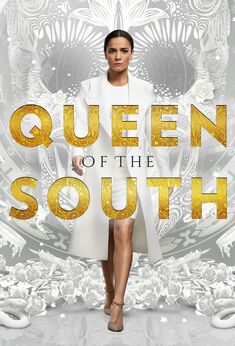 Queen of the South
is an American crime drama television series created by M.A. Fortin and Joshua John Miller. It is an adaptation of the telenovela
La Reina del Sur
, which in turn is an adaptation of the novel of the same name by Spanish author Arturo Pérez-Reverte.
Leading one of the world's most powerful drug cartels isn't a job – it's a lifestyle. Although Teresa hasn't ascended the throne yet, as she rises through the ranks under Camila she's getting a taste of Queenpin life in all its glory: glamorous and gritty, dangerous and decadent, infused with the flavors of Mexico and the bold spirit of Texas. Immerse yourself in the power, culture and style of her new world, where life is high – and so are the stakes.
Queen of the South premiered in June 2016 on USA Network and five seasons have aired so far. On August 29, 2019, the series was renewed for its fifth and final season, which premiered in April 2021, a year later than expected due to covid-19.
Queen of the South is based partially on the The Queen of the South (novel) by the Spanish author Arturo Pérez-Reverte. It was originally published in Spanish under the name '"La Reina del Sur".
Characters
Featured Video- How are we gonna get out of here? We're not! You are!
This is an encyclopedia run and maintained by people just like you! Created by fans, for fans, Queen of the South Wiki is dedicated to building a comprehensive and informative resource for Queen of the South fans.
Have something to say?
Make a blog post
, check out
recent blog posts
, or participate in
Discussions
!
Twitter Feed