The fourth season of Queen of the South was confirmed on October 1, 2018 and features new showrunners: Dailyn Rodriguez and Ben Lobato. They were promoted to co-showrunners and executive producers, taking over for Natalie Chaidez. Dailyn Rodriguez has been on the writing staff since Season 2 and had been a co-executive producer. Ben Lobato has been part of the writing staff since Season 1 and had served as supervising producer.
The official Queen of the South twitter account released this video of Hemky Madera to announce the renewal on October 2, 2018. The writers room met on October 29, 2018 to start planning the next season [1], and a picture was posted of the writers room the following day, notably not including writer and actor Ryan O'Nan [2]. This season was entirely directed by women or people of color [3]. Filming was expected to begin in January 2019, according to writer Jorge Reyes [4]. In reality, filming began in February of 2019 in New Orleans, Louisiana in southern United States [5]. As of March 21, 2019, they had shot four episodes [6]. As of May 12, 2019, they were ten episodes into production [7]. It premiered on June 6, 2019 [8][9][10][11].
Plot overview
[
]
In this season, Teresa has ascended to the throne by gaining control of a smuggling operation that extends from Sinaloa to Phoenix, Miami and now to New Orleans. In Season 4 Teresa expands her operation to NYC and gets in business with the Russian mafia despite having numerous setbacks in her base city of New Orleans. Teresa survives personal loses and understands that one needs to be ruthless to survive in this business. Three notable antagonists are introduced: corrupt judge Cecil Lafayette, Cuban drug dealer El Gordo, and street gang godfather Marcel Dumas. [12]
Story
[
]
Teresa moves her Operation to New Orleans, NOLA, where after a six month set up period she is still searching for James unsuccessfully. She buys a tequila distillery and opens a bar as fronts for her operation. She plans to buy a waterfront property, to develop it and to own legal businesses.
Teresa starts making inroads into NOLA's crime field by securing the business of El Gordo, a Cuban narco dealer and later of Oksana Volkova, a Russian dealer from Atlanta.
Marcel Dumas, the local crime boss, comes to introduce himself. Judge Lafayette and his corrupt cop Green are the other players who Teresa has to deal with.
Teresa has troubles buying a transportation company but the Judge helps her out as a sign of allowing her to do biz in his town.
Javier and Boaz Jimenez kill the Judge's nephew in a stupid drunk confrontation and withhold the truth from Teresa. This leads to more victims on each side and to the Judge restlessly looking at and doubting Teresa's operation. The Judge extorts her and she pays up. However, she is not able to gain his trust. He puts her at odds with Dumas and Dumas sides with Teresa against the Judge.
Teresa has a short sexual affair with a jazz player, Eddie, but when she realizes that she puts his life in danger, she breaks it off.
Tony, who studies in a private school, gets threated by sicarios paid by Cortez before his death. While saving Tony, Pote finds out that Kelly Anne is alive. James spared her life and she has been on the run ever since. However, she goes back to save Tony when he signals danger on their contact app. Pote brings Kelly Anne to NOLA. She stays with him and Teresa slowly accepts her back.
Pote and Kelly Anne admit their feelings for each other and become a couple. Tony finds out that Pote killed his father and has trouble accepting this fact.
Javier lives with Emilia, who has escaped Boaz and whom Boaz is still searching for. Javier and Emilia make a mess when trying to move the body of the Judge's nephew. The Judge and Green wrongly assume that Teresa has ordered the hit on the nephew and they order a hit on her. The car that explodes and is meant for Teresa kills Tony and puts Teresa in the hospital.
Once Teresa regains consciousness she believes the hit was ordered by the family of El Gordo and she attacks them in Miami. Dumas uncovers the truth about the Judge being at fault and Teresa has no option but to cooperate by handing in Javier, the real culprit, after he confesses to being guilty in the death of the Judge's nephew. Javier dies a heroic death taking Green down with him and avenging Emilia's murder.
Teresa asks Boaz to run Miami for her and he accepts. Oksana Volkova introduces Teresa's biz to her cousin Kostya whose game is in NYC. Teresa's operation grows bigger by the month.
When Teresa, Pote and King George and discussing their current expansion, a car driving erratically comes to a halt in from of the dock, James stumbles out of it and bleeding from a gunshot wound to the middle, falls on the ground warning Teresa that a kill team is coming for her.
Episodes

[

]
Media
[
]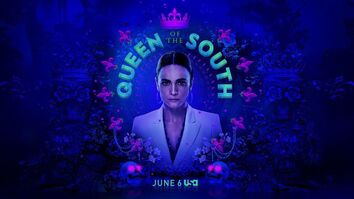 The season 4 title card was created by company but Dailyn Rodriguez and Ben Lobato had it tweaked to add the fleur de lis for New Orleans. [26]
See also: Season 4 -- What We Know and Season 4 Behind the Scenes.
Polls
[
]
References
[
]