Vienen Por Ti is the 52nd episode and the finale of Season 4. It translates to "they come for you."
Summary
[
]
Teresa uncovers who is behind the betrayal and the attacks on her and must make difficult decisions about how to handle all the players, when unexpectedly wounded James returns to her with a message.
Plot
[
]
"There's only one way to be safe in this business -- be powerful enough that no one can touch you."
The Judge asks Marcel if he's with him. Marcel shrugs and says "of course." King George learns that Marcel and his men were responsible for Birdie's death. Javier learns that Emilia is dead from Davis and is taken to where she was buried. He falls to his knees in distress and tries to unbury her. He sobs as he touches her hand. He screams and punches the ground in his grief.
Boaz tells Javier to make sure that the person that killed Emilia suffers. Make sure the idiot dies a painful death.
Pote attempts to kill the Judge while he's with a prostitute, but his attempts are foiled by Randall, who breaks in with a gun and shoots at him. Randall seems to get shot. Pote gets back into the truck and tells Chicho to go. A man confirms to Randall that Teresa is there. They watch her through binoculars. She's been boxed in.
Randall and the men enter the building where Teresa is under the leadership of Randall. Randall checks the room she was in earlier and finds nothing. He tells his men to fall back, realizing it's a trap. Teresa and her men attack Randall's men. Randall realizes that Dumas set them up and gets away.
King George struggles to kill the man responsible for Birdie's murder, Cedric. Why'd you do Birdie that way? Tears streak down the man's face. Cedric says he was just following orders. Eventually, he turns away and leaves, ending the cycle of retaliation.
Javier stalks Randall, finding a blood trail, but he can't find him. He screams in frustration.
Teresa tells someone, "I could have protected you, but now I can't." Teresa and Pote learn that Javier was responsible for Tony's death. Pote cocks his gun and is ready to kill him, but Teresa tells him to wait.
Lafayette tells Davis that Teresa is the reason that Rene is dead. Davis Lafayette dies. Lafayette decides to punish Javier for killing Rene by lighting him on fire. Let's do this, pendejo. Randall dumps gasoline on his body in the trunk of the car. Javier wraps his cuffs around Randall's neck and pulls him into the trunk, taking him with him. They both burn to death.
In preparation for the meeting with Kostya, Teresa puts on a white suit.
Eddie comes to see if Teresa is okay after the explosion in front of her bar. He knew she had been in the hospital but he didn't go because he wasn't sure she wanted him to. Teresa says that she's glad he didn't. Eddie says he knows that she's not just a bar owner or a tequila maker. He asks her to tell him the truth. I run a drug cartel. Eddie asks if she's serious. She tells him that every minute he spends with her, he's in danger.
Pote, George and Teresa discuss the rapid expansion of the business at the loading dock of the transport company when a car approaches unsteadily at a high speed and makes a forced stop.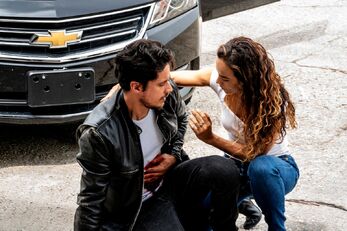 Pote and George point guns at it pushing Teresa back while the car door opens and James stumbles out clutching his bloody middle and falls to his knees. Teresa's eyes are filled with horror as she rushes to his side.[1]. James looks at her and warns her "They're coming for you."
Characters
[
]
Gallery
[
]
Quotes
[
]
Trivia
[
]
Parallels
[
]
| | |
| --- | --- |
| 3x05 | 4x13 |
| James: When they come for you, I'll be ready. | James: They're coming for you. |
Tweets
[
]
Character Deaths
[
]
References
[
]